Welcome to the 23rd installment of "What the Crap?", where we take a hard look at just what the crap is going on in the world of gaming. This week, we examine racism. Racism is everywhere, in segregated bathrooms, diners, podcasts—even in our videogames. But why? There's enough of it out there in the real world; why is it so profound in the artificial 8-bit world? Can't we all just get along?
Ghostbusters
Ghostbusters for the NES is based on the hit film Ghostbusters—or at least, that was the objective. The movie starred Harold Ramis, Dan Akroyd, Bill Murray, and Ernie Hudson. The videogame would make you think that it only stared the first three, however. Each game area shows either two or three ghostbusters, but they're always the same-looking white guys! They didn't include Winston, for some reason. He was a pivotal ghostbuster, even though he wasn't a scientist and didn't show up until later in the film. He became the main driver of ECTO1 and was a great presence in the team. Here's the conversation that must have gone on at Activision:
Developer 1: OK, I got the sprites together for the ghostbusters. I realize that they're three white guys of average build, so I just went ahead and made them look exactly the same. All white people look the same, so this is a pretty accurate portrayal.
Manager: Didn't the movie have four ghostbusters, though?
Developer 1: Oh…yeah, you're right. Well, I never actually saw the movie, but I looked at the poster for a couple of seconds. Well, we could include him. Most of the scenes only show two ghostbusters…so I guess I can do a quick palette swap and make a black sprite in some of the scenes.
Manager: No…no. We want the game to look as bland and gray as possible. Throwing a black man in the game would totally screw up the color palette we're going through. Don't even bother.
Developer 2: OK, well, all we need to do then is proofread the ending screen.
Manager: Don't bother. This game is so horrible and difficult no one will ever reach the end. We're just putting the Ghostbusters logo all over the place so it sells well and…
Developer 1: Oh yeah, about that. I noticed that the logo is actually backwards on the main map screen. You know, the one where you're driving around as the Ghostbusters logo for some reason. Yeah, it's mirrored.
Manager : Ah well; no one will notice. Chances are, anyone playing this game doesn't even know what Ghostbusters is. Ship it!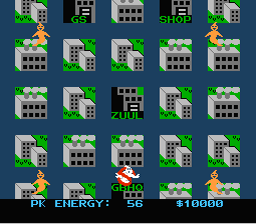 The ZUUL building (aka Dana Barret's apartment) is apparently an ugly garage.
Mike Tyson's Punch Out!!
You play as Little Mac, an equal-opportunity boxer, hell bent on smashing stereotype after stereotype as he makes his way up to the Dream Bout against Mike Tyson himself. You got the bandanna-wearing Japanese guy, the weakling Frenchman, the Flamenco-dancing Spaniard, the drunk Russian (although this changes to soda pop in USA), and the turban-wearing Indian. This game pretty much ran the full gamut of racial and ethnic stereotypes.
As graphics and sound improved, surely the bigotry would subside, right? Unfortunately, things seemed to just get more flamboyant and repugnant as the years went on.

An actual screenshot from the Wii version.
Jackie Chan's Action KungFu
Jackie Chan. One of the most well-known Asian actors in mainstream America. Surely a Nintendo game with his shining endorsement should help to clear up some of the racism prevalent in the system. Well, let's just boot it up and…holy crap! What happened to Jackie's eyes?! It looks like he was in a horrible car accident and burned alive! Oh, Jackie! Jackie! What happened? Is this a quest to hunt down the drunk driver that did this to you? Oh wait, I see; your eyes are just way overly slanted, because all Asians look like that. What the crap, Jackie? I'm guessing that Jackie had absolutely nothing to do with this game. What's strange is once you get past the title screen, Jackie looks like a normal-eyed individual, ready to kick a bunch of tigers and frogs. This reminds me of all the junk that Krusty the Clown puts his name on, but at least that was an accurate portrayal.
I'm sure I've missed some, but it's clear that the late 80s and early 90s were pretty rampant with this stuff. Looking back, almost every game even had a white male protagonist, which says something itself.